At Newquay Community Orchard, local people are growing and learning together
You can't rush things when you're growing your own food. It takes time and patience, but the results can be joyful.
That's plain to see – whether you have a solitary herb plant on a windowsill or seven productive acres built by and for the community.
Newquay Community Orchard in Cornwall is fortunate enough to be in the latter position. Their site covers a patch of land the size of three and a half football pitches. It brings people together and, in doing so, helps to tackle many social issues that could otherwise be easily overlooked.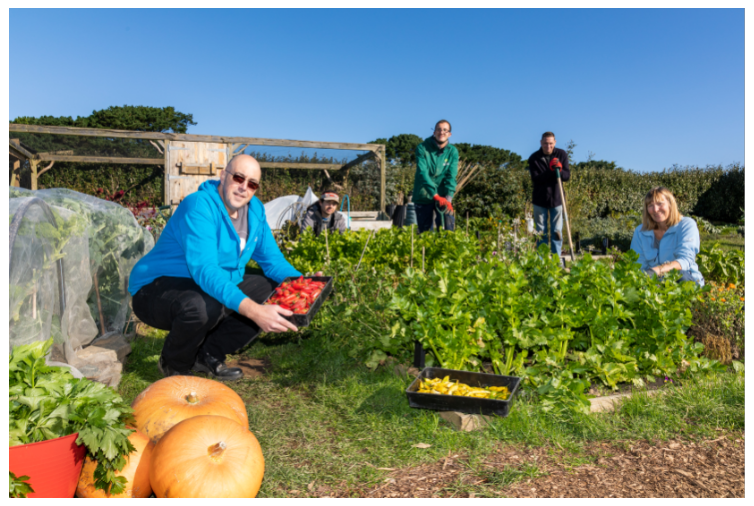 That conference was suggested by Andrew Howell (on the left in the above photo), who works as a change coach at the community orchard and who runs End Hunger Cornwall with local support.
He had begun exploring poverty in Newquay in 2017, with Cornwall Independent Poverty Forum and says: "The more we dug, the more we found, and the more we realised the vast scale of the problems here. The scale was epic, and we started putting some plans together."
The orchard, which is the August feature in the 2021 Dignity, Agency, Power calendar, has been at the heart of many responses.
Ending social deprivation
Seven years ago it was empty fields, but more than 700 volunteers have helped to make it a local haven. Today, it is somewhere people come to grow, learn and relax together, and it has become a centre locally for culture, education, collaboration and ideas.
If you were to visit, you'd see a traditional heritage fruit orchard, a community growing space, a market garden, and a café. Behind the scenes, the site is powered by an immense amount of work and compassion.
Several different programmes run, to enable local people to develop their own skills, overcome isolation, build new opportunities and to create community, opportunities and change together.
The Growing Futures and Sustainable Lives educational, social and volunteering programmes have been created here for young people and adults to help the local community. All teaching at the orchard is centred on sustainability, ending social deprivation and promoting biodiversity.
The latest addition, which opened earlier this year, is the Kowel Gwenen community building, a co-working space and canteen, and home to the food hub. Performance terraces have also been added around the building, for poets, musicians, comedians, yoga, speakers and theatre groups.
Andrew's colleague Jamie Poyner says: "Our breathing space here in the centre of Newquay is helping to end social deprivation, support people experiencing food poverty, increase biodiversity and create a more sustainable community of people."
Rediscovering dignity and agency
Andrew says: "People can grow stuff and prepare stuff and work through stuff, in a non-pressured way. You might spend six weeks here, or it might be five years. It's about getting the space and pace right. People can go to the Job Centre when they're struggling, and be told 'Go get a job or we will sanction you'.
"But if they were referred to the orchard, we could have a chat and see how they were doing and help them break a cycle and they can really boost their dignity and agency – or rediscover it. 
"You can't push that sort of thing. People find their agency and power in their own way, and until they do they need just a bit of support. But when they do find it again, it's fantastic. I have seen so many people really turn their lives around."
More 2021 Dignity, Aagency, Power stories