People around the country came together in support of the End Hunger UK campaign, calling for immediate action from the country's leaders.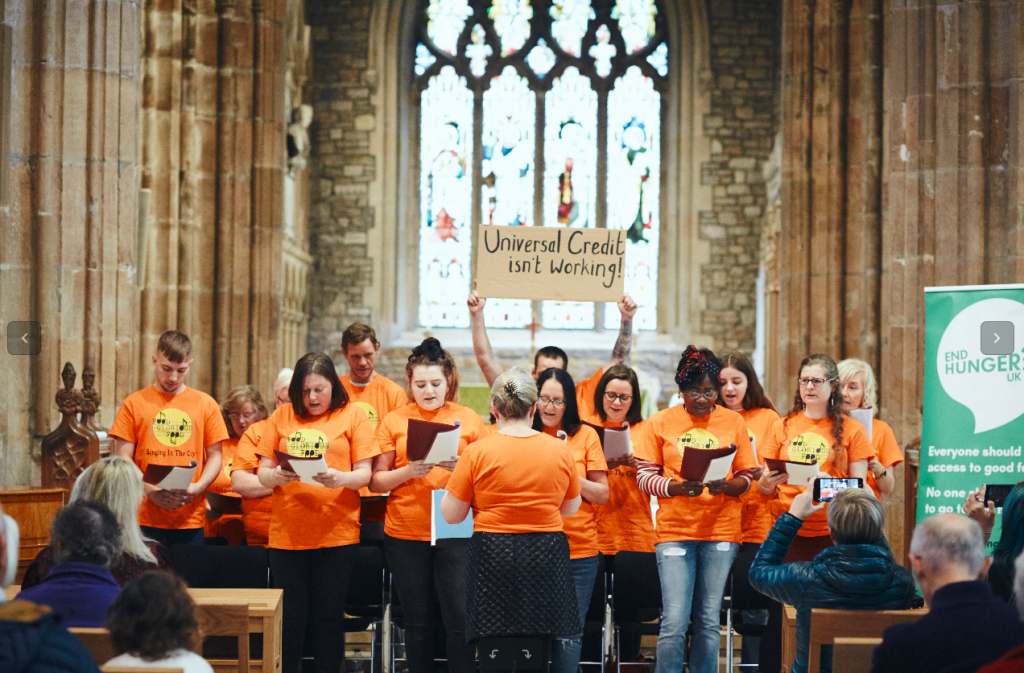 In dozens of towns and cities, groups of supporters and campaigners unveiled signs reading 'Act Now To End UK Hunger' as part of a national week of action, and we held a fantastic event in Sheffield Cathedral.
Photographs were shared from landmarks including The Angel of the North, Caerphilly Castle, Everton Park in Liverpool and King's Cross station, as well as at schools, colleges, market squares and offices.
The End Hunger UK campaign is a growing movement of people and organisations, including Church Action on Poverty, that have come together to challenge the underlying causes of food poverty and hunger in the UK.
We know countless compassionate community groups all over the UK are doing amazing work to relieve hunger day to day, but it is vital that we protect people from being swept into crisis in the first place, so that one day we no longer need food banks and other such projects. Nobody should have to go to bed hungry. Everyone should have access to good food.
The week of action was an intensification of our shared efforts.
At local level, hundreds of people took part, displaying the signs, raising the issue with their local media, or holding special events such as an invisible banquet in Oxford.
At the national level, we and other members of the campaign wrote to all party leaders in the House of Commons, asking them to set out their plans for ending food insecurity by 2030, and asking them to meet with us to identify solutions
The focal point of the week came on World Food Day, October 16, when the Food Glorious Food choir performed at Sheffield Cathedral.
The choir is made up of members and volunteers from the Gleadless Valley Food Bank in Sheffield, who had been brought together by local choir leader Yo Tozer-Loft.
Their repertoire included Something Inside So Strong, A Million Dreams, their own song based on Yorkshire foods, and a rewrite of A Little Help From My Friends with lyrics based on the singers' own stories of using the food bank.
Choir members also spoke to The Daily Mirror and BBC Sheffield, leading to powerful coverage. Jamie, one of the choir members, spoke to both media outlets and took part in a panel discussion in the Cathedral. "Although the food bank helps with the immediate problem, it's not a long term solution."
The event also include poetry readings by Matt Sowerby live, and via video by Aaron R from the United States.
Speaking before the event, Niall Cooper, chair of End Hunger UK, said:
"We all want to live in a country where everyone has access to good food and no one needs to go to bed hungry, but we need action to make that a reality. The UK Government and all parties need to commit to drawing up a clear roadmap to end food poverty, and must act now to end hunger.

"The UK has no shortage of food. The problem is one of incomes – too many working and non-working households are being hamstrung by insufficient wages and a benefits system that does not cover people's essential costs.

"Charitable emergency food provision has proliferated in the UK in the past decade and large numbers of people have been forced to turn to food aid providers. In the sixth wealthiest nation on the planet, this is simply not right.

"Politicians must listen to the experiences and insights of people who have been caught in a rising tide of poverty and debt, and the national target must be to halve household food insecurity by 2025, as a step to ending it by 2030."