Church Action on Poverty in Sheffield's 11th annual Pilgrimage
At the event, a Sheffield MP urged faith communities to help society set new caring priorities. Here's a report from our local group who organised the Pilgrimage.
Sheffield Central Labour MP Paul Blomfield has urged faith communities to play a major part in setting new priorities for society that would make Britain a more caring and inclusive country.
Mr Blomfield was speaking at the end of the annual Sheffield Church Action on Poverty Pilgrimage, which saw a record number of 40 people from different faith communities visit initiatives aimed at reducing poverty in the city.
This year's pilgrimage focused on initiatives, mostly located within his constituency, based at Anglican and Methodist Churches, the Madina Mosque and Heeley City Farm as well as St Vincent's Furniture Store and St Wilfrid's Centre, established by Sheffield's Roman Catholic community.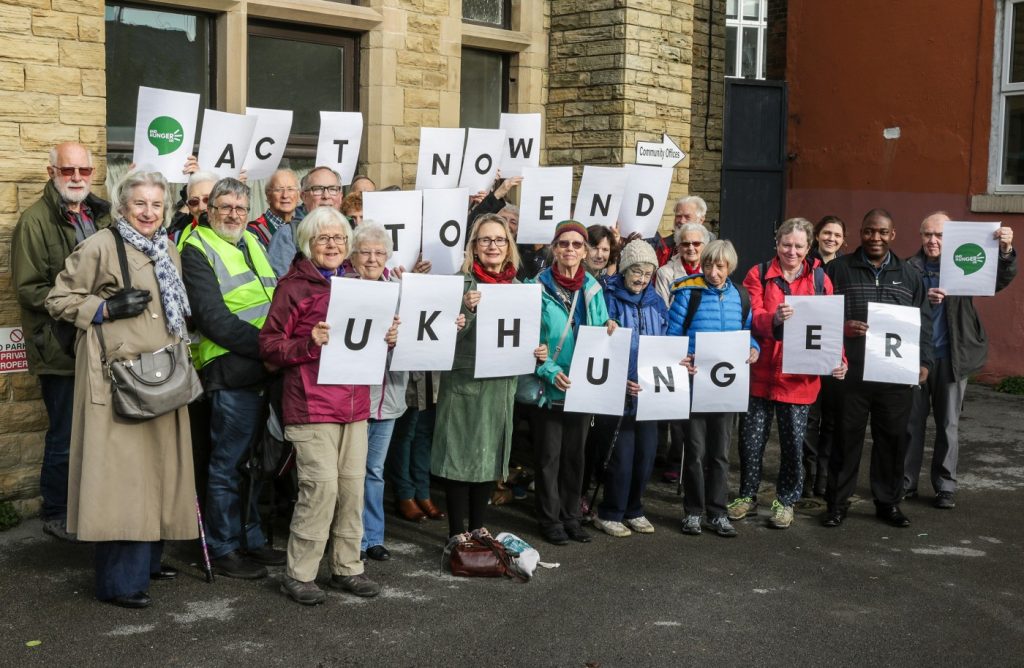 Mr Blomfield told those taking part in the Pilgrimage that there was a need to re-establish the post-war cross-party consensus on the need for taxation to provide services for all and tackle inequality:
"When I was a child, Budgets were about putting 1p on this and 1p on that to maintain public resources and create the kind of society we wanted to live in.

More recently, politicians have been measured by how effective they are in cutting taxation, but that has a consequence."
The Government's austerity programme had shifted responsibility for cuts from Westminster to local councils and had led to the most disadvantaged areas facing the deepest cuts.
"We need to reverse the narrative about austerity. We need to challenge the consensus around taxation and spending. We need to recognise that we can't have Swedish style public services on American style taxes.

We need a cross-party, societal agreement. Faith communities have a hugely important role in taking that debate forward and helping to shift that debate.
This year's Pilgrimage began at Highfield Methodist Church, which is currently undergoing a major refurbishment to enhance its place as a community asset and is also a base for worship for the local Liberian community who came to Sheffield as refugees in 2004.
Pilgrims went on to visit:
Madina Mosque, which annually feeds around 5,000 people of different faiths during Ramadan in addition to making major contributions to city food banks and other charities.
Heeley Parish Church, where £310,000 is being spent on creating flexible space for the community, in addition to its Cafe Care initiative, which provides food and assistance for disadvantaged people. The church also hosts services for worshipers from the local Ethiopian Orthodox and Nepalese refugee communities.
Heeley City Farm, which provides 'Health Holiday' breakfasts and activity sessions during school holidays for children who might otherwise go hungry, in addition to supplying more than 13 tonnes of fresh produce to food banks and other city initiatives and providing advice and support to help people with difficulty funding their energy bills. through its Energy Centre.
St Vincent's Furniture Store, which prevents around 120 tonnes of good quality furniture and other household goods from going to landfill by recycling and distributing it free of charge to people in need, supplying special 'starter packs' for those moving into unfurnished homes.
St Wilfrid's Centre, which provides a safe space, food, activities and personal development opportunities for people who include rough sleepers, sufferers of domestic violence and mental health problems, asylum seekers whose cases have been rejected and people who have been trafficked, many of them from other British towns and cities. Two years ago the Centre opened St Wilfrid's Place, creating 20 self-contained apartments for adults with a history of homelessness.
Participants in the 2019 Sheffield Church Action on Poverty Annual Pilgrimage show their support for the End Hunger UK campaign by 40 national charities, frontline organisations, faith groups, academics and individuals working to end hunger and poverty in the UK before setting off to visit initiatives aimed at reducing poverty in the city.