2021 stories: how friends are striking a chord for justice and unity
The second of our 2021 calendar stories takes us to South Yorkshire
Music brings people together and captures people's attention – and it can be a force for change.
In Yorkshire, for the past two years, one community's shared love of music and a shared desire to learn has led to new relationships, and new-found solidarity and belief.
Through the power of music, participants are reasserting their dignity and agency, and building new friendships along the way.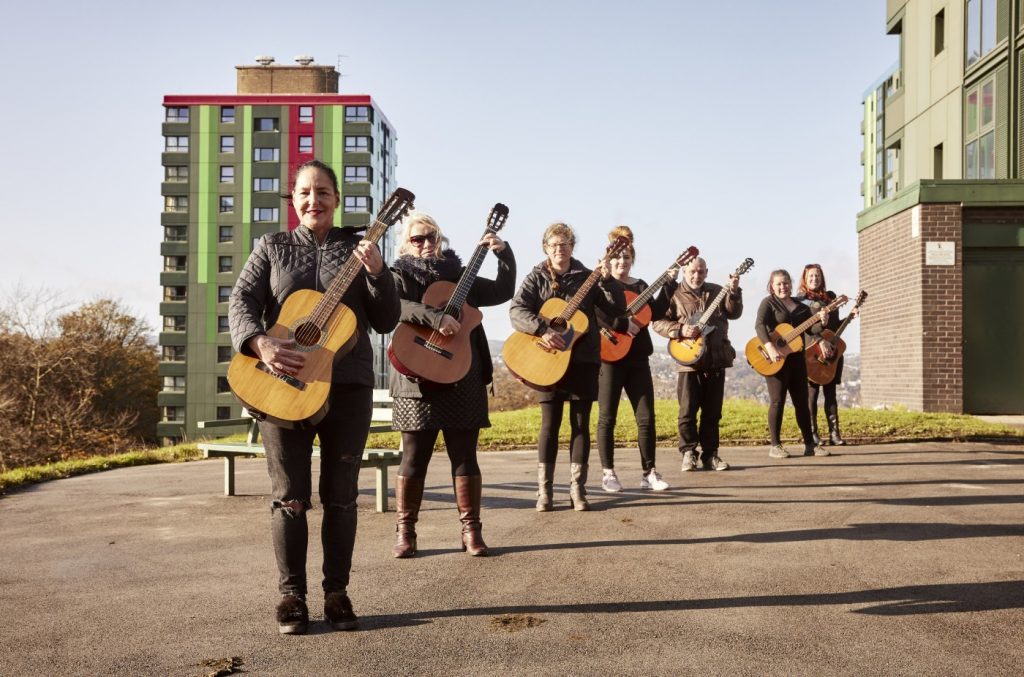 If you have the Dignity, Agency, Power calendar, you will recognise the above photo, showing a group of guitarists in Gleadless Valley in Sheffield.
Yo Tozer-Loft set up the Food Glorious Food choir in the neighbourhood in 2015, and the group gained national attention singing at Sheffield Cathedral to highlight the injustices of food poverty and when it was used as research for the National Theatre Play, Faith, Hope and Charity. In January 2020, just before the pandemic, Yo and some of the group set up a guitar circle, to build on that success.
"We put a call out to see if people had spare guitars sitting around not used, and it was lovely to get them coming in. A local musician, Pod Pearson from Rich Tone, restrung all the guitars in his own time for free, which was very generous, and whenever anyone broke a string, they helped again. The other people who were so supportive was a well-known cellist called Liz Hawks, who supports community music and got tuners for everyone, and Stuart, our teacher, who waived his fee5
"We started at the start of 2020 and had nine sessions until everything stopped in March. We had planned a showcase performance and did not get to do that, which was such a disappointment. We had all been building up to perform, and it would have been a really lovely moment.
"People were so committed. I have worked before with nervous people but so often people rise to the moment, and the guitarists were willing to put themselves up there as soloists.
"Gleadless Valley Methodists supported us, but so did the Gleadless Valley Library, who hosted a couple of sessions. Reach South Sheffield and St Mary's Bramall Lane also supported us.
"Once lockdown ends, we are really hoping to regroup as soon as we can.
The joy of learning together
"We got so much from the project. Learning is so magical. Learning brings joy and lets people feel like the humans they are meant to be. The guitar circle combined learning, music and discovering yourself, and people discovering themselves through music is wonderful to see. Learning, music and community are such a combination, and having music to enable connections and friendships really does work.
"We kept going once the pandemic hit. We had a WhatsApp group to stay in touch, so had group calls every week and that was a good continuation for people, giving and getting human support."