32,000 meals, and now a bold new food plan
How do we recognise and uphold the dignity, agency and power of people in poverty?

How do we ensure people with first-hand insights are heard and heeded?

How do we bring together all our myriad experiences, skills and resolve, to break free from poverty and build a more compassionate society?
Throughout this year, to help answer some of those questions, we will share the stories behind the photos in our 2021 calendar. Each month, we will focus on one inspirational project that we are proud to stand alongside in the movement to end poverty.
This month, the spotlight is on The Cedarwood Trust, which was founded in North Shields 40 years ago. Cedarwood has always been a close partner of Church Action on Poverty and exists to serve the immediate needs of its local community and to work towards a better society for everyone. In recent years, as well as the day-to-day community work, the team and local people have taken part in projects such as Voices From The Margins, and they spoke up when the UN's Philip Alston visited the UK in 2018.
The group shot below of some of the Cedarwood team opens our 2021 calendar, and we asked chief executive, Wayne Dobson, what dignity, agency and power means to him and the community.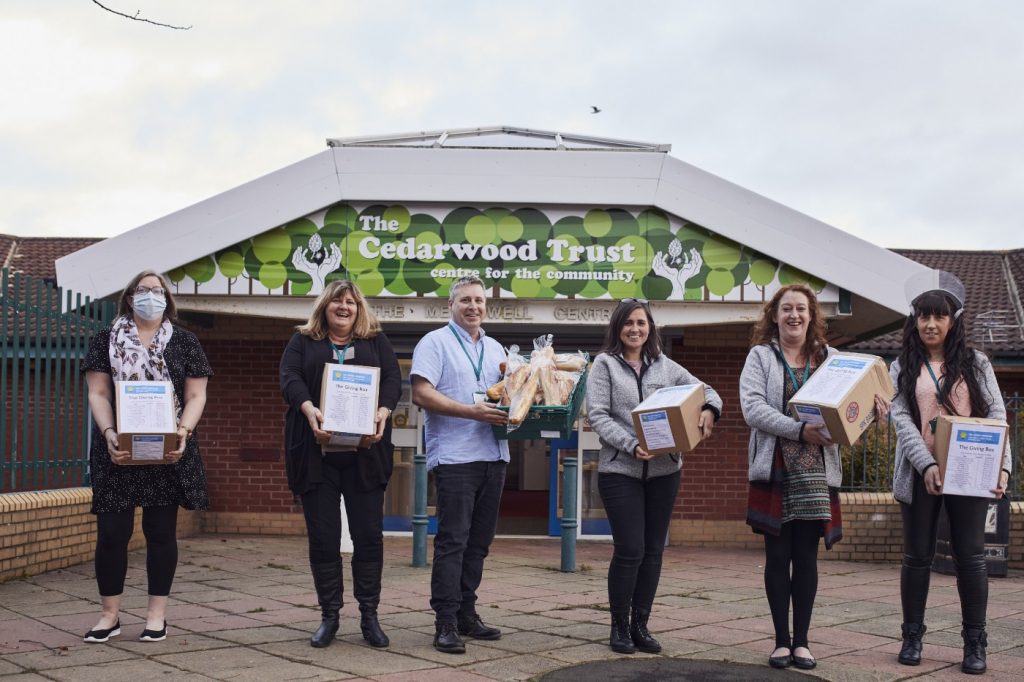 Everyone should be treated with dignity and respect
"I come from a very humble background where community is everything. We had no gardens, the houses were tight together and you knew each other and would often be fed by each other as neighbours.
"There was a huge amount of community and no difference between people. I think sometimes now, people are very quick to point out differences between people, but what I remember is a real sense of community and knowing what we had in common.
"That's what I still hold in my heart. Everyone should be treated with dignity and respect. That should be systemic through everything we do.
"Cedarwood is a safe and welcoming place for people. It can be somewhere they meet people or get support or just somewhere where they have a big bowl of food to sustain themselves.
"We have really expanded where we work, especially since the start of the pandemic. We always served the Meadow Well estate, but we have found a lot more people wanting to be part of the community we support, especially because a lot of people who have moved off the estate over the years have kept an attachment to Cedarwood.
32,000 meals and a bold new plan
"We now support people from vast areas of North Tynesisde and when we ask people why they are coming to Cedarwood from so far, they say it's because their mam or sister used to come and they trust us. It has almost become part of the common psyche of where people go for support. It's a good thing but it stretches resources incredibly. We've given out 32,000 meals since the first lockdown started."
Sustaining dignity is vital to Cedarwood and its residents, and the charity is about to launch a new food membership scheme, inspired by projects such as Your Local Pantry. The Co-op has granted the charity use of one of its empty branches for six months, rent-free.
Cedarwood will turn it into a local shop, selling basic groceries to the whole community, but people can also join as members, paying a small weekly subscription which entitles them to a far larger value of groceries in return.
Wayne says: "One of the things that gets a lot of discussion around here is poverty-proofing, whether that's in schools or elsewhere, and part of that involves reducing the stigma. We do that in a lot of our work. For example, at Christmas we wanted to ensure children in North Tyneside received a Christmas stocking, but we didn't want it to just be for children identified as 'poor' by their teachers, so we worked with schools and blanketed them, so every child in 13 schools received one. 
If we have something we can share - let's share it
"Our plan now is to open a high-quality shop, very visible rather than tucked away somewhere, and there will be no clear distinction between people who are members and people who are paying cash, except that we will know at the till who is a member.
"That's the ethos we are trying to develop, so there will be no distinction between one person and the next man or woman. The building would normally be £32,000 a year in rent, but we have it for six months and then can see where that leads. Depending on covid, it can give us a chance to look at things like a community café or a small community library as well.
"All of this touches on Christian beliefs as well: if we have something and can share it, let's share it. We cannot be more useful than when we are sharing what we have."
Cedarwood worked wonders last spring and summer, delivering meals, providing phone calls and conversations, and doing door-step visits to maintain spirits and community. This video shows a flavour of what that all meant to local people.
Doing likewise this year will be difficult, as some of the funding that enabled it is coming to an end, but Wayne and the team are determined to do whatever they can. "We are reaching out much more and staff are developing bigger and bigger aspirations," he says.