Why did I write Second Class Citizens and what can we learn?
In Second Class Citizens, author Stef Benstead shows how the rights of disabled people have been systematically breached in the UK since 2010

.
The videos on this page show Stef Benstead, author of Second Class Citizens.
What does it mean to speak truth to power? What messages need to be told, and who most needs to listen?
These questions are always integral to our thinking and priorities at Church Action on Poverty, and we stand alongside those who have been marginalised.
We work with many inspiring groups and individuals around the country, but one of those leading the way is one of our own trustees, Stef Benstead.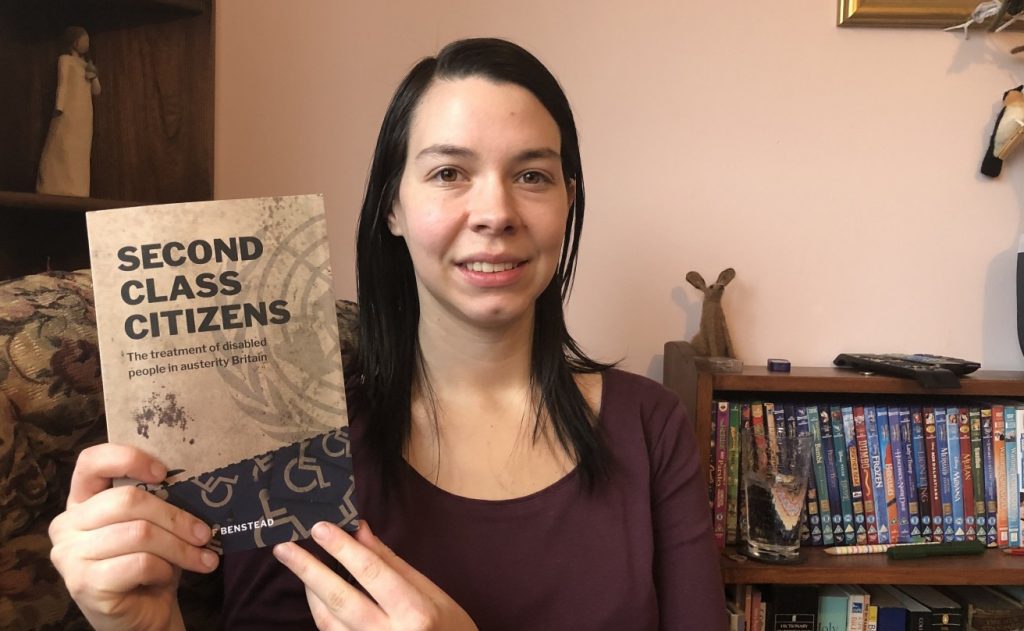 An important but under-told story
Stef is the author of Second Class Citizens, which is a devastating critique of the way the UK has treated disabled people in the past ten years.
In it, she charts the development of attitudes and care towards disabled people in the past few centuries. Next, she analyses and deconstructs the policies of the past decade.
The book also contains powerful true stories. In many cases, people have been swept deeper into poverty by a system that ought to be a lifeline.
In 2018, the UN's special rapporteur on extreme poverty and human rights, Philip Alston, delivered a scathing report on the UK's approach over the past few years. Policies and practices he examined have left millions trapped in poverty by circumstances out of their control. 
The report generated much discussion, and yet two years earlier, a similar evidence-led report on the UK's treatment of disabled people went largely unreported.
The opening lines of Second Class Citizens begin with that study. Stef writes:
"In 2016, the United Nations made an extraordinary announcement: that the United Kingdom, a rich and developed country, was violating basic human rights."
The Government was dismissive of the UN report and said it was actually a world leader in the field.
Second Class Citizens is a forensic examination of the UN and UK's opposing claims. Stef finds a catalogue of changes to policies, rules, administration, approach, and political rhetoric. Overwhelmingly, the changes contributed to a steady and steep erosion of disabled people's rights, opportunities and incomes. In addition, they were all implemented with minimal consultation or discussion with those affected.
In the end, Stef finds the evidence overwhelmingly supports the UN position. By contrast, the Government's claims and arguments do not stand up under cross examination.
Stef writes: "The post-2010 Governments have caused substantial harm to sick and disabled people's health, living standards and social inclusion.
"It has done so without any moral or economic justification, and has signally failed to uphold one of governments' most fundamental reasons to exist: to ensure and improve the access to basic rights of its most vulnerable citizens.
"Sick and disabled people in the UK today are treated as second-class citizens, and until this situation is rectified the UK Government will continue to be violating international law by its ongoing breach of disabled people's rights."
Our society should not be like this.
The goal of a modern society, Stef writes, should be that sick and disabled people have access as far as possible to the same choices as everyone else, in terms of where to live, work or study, and what to eat, wear and do.
However, that ideal has become a more distant hope for several reasons. Firstly, the narrowing of criteria for help has locked more people out of the support system. Secondly, the removal of some support systems completely has cut people adrift, and those with greatest needs have endured the greatest cuts. Thirdly, many attempts to improve the system have been flawed, often due to failure to properly consult and listen.
Stef has the genetic connective tissue disorder, Ehlers-Danlos Syndrome, and Postural Tahycardia Syndrome and fibromyalgia. This means she is always exhausted and in pain. She has a 1st from Cambridge but had to leave her PhD at the same university when she became ill. 
It was her own experience that led her into researching disability rights and treatment. Drawing on this experience and research, Second Class Citizens aims to provide a clear and lasting answer to many recurring questions. 
"Speaking truth to power is important when it means MPs listen to someone who they do not normally listen to and hear about issues they do not normally hear about," says Stef.
"I would hope that would stimulate them to then look more into the issues and learn more about it from another perspective. We need to keep saying what is wrong and we need to have a story of how things can be better."
The book is compelling in its assessment of Government policies, and statutory systems:, and makes clear demonstrations of failure. For instance, people are hamstrung by infuriating errors and flawed systems. Public transport is often inaccessible. Support is frequently unreliable. The flawed benefits system punishes minor or non-existent errors. Letters from the DWP say large-print or Braille options are available… but fail to say so in large print or Braille,. As a result, blind people are often unable to read important correspondence.
Stef also examines the political rhetoric that has sustained many of the injustices and systemic problems. She scrutinises, dissects and finds wanting the narrative of a 'dependency culture' that has been adopted by many politicians in modern times.
She concludes:
"It is not simply that there is a lack of evidence, but that the evidence shows a strong commitment to work, even among people who are too ill to work or whose only experience of work is of low-paid, dead end jobs."
Throughout the book, Stef introduces people with first-hand experience of systems and policies that have made life harder.
Adam, for instance, had a good relationship with his landlord, until Universal Credit swept him into rent arrears. Beth, who has autism and severe anxiety, was in seclusion in hospital not because of her own needs but because the hospital has lacked staff. She spends more than 23 hours a day in one room and has not been outside since early 2018.
Their stories are among dozens that hammer home the impact of the systems Stef examines.
Stef is part of the Spartacus network, a collective of disabled or ill researchers, and also works with the Chronic Illness Inclusion Project. She is also a trustee of Church Action on Poverty.