More 'bold and courageous' action needed to protect millions from biggest income shock in living memory
Our Director Niall Cooper calls for further action to ensure the outbreak doesn't sweep millions of people further into poverty
This builds on the coronavirus food alert which we issued with partner organisations at the start of the outbreak.
The numbers swept into poverty in the past month are on a scale unseen since the Great Depression nearly a century ago. Further bold and courageous action from Government is needed to stem the tide of poverty and destitution over the coming weeks and months, which goes significantly beyond the measures already announced. There is an increasingly compelling case for a one-off cash payment to every household in the country, to ensure they have the means to buy food, pay rent and bills and tide them through the next few months and to provide the economic stimulus to kickstart the economy once shops and businesses, pubs and restaurants start to reopen in the coming months.
Whilst the measures taken to tackle the threat posed by the global Coronavirus pandemic are undoubtedly essential, the economic cost is disproportionately falling on the poorest and most vulnerable.  The numbers swept into poverty and destitution in the past month are of a scale not seen since the Great Depression nearly a century ago. Government measures to mitigate the impact have been impressive, but there is growing evidence that hundreds of thousands – and potentially millions – will slip through the net, and face increasing poverty and destitution.
The response at community level, by food banks and other community projects, has been heroic, with many seeing a doubling or trebling in the numbers turning to them for support. However, it is clear that charitable and voluntary action cannot avert the scale of crisis of poverty now affecting millions of people across the country.  In the light of this, further 'bold and courageous' Government action is required to match some of the radical measures being rolled out by nations in the grip of the crisis.
A global economic catastrophe: the biggest economic recession since the 1920s
Coronavirus is a global pandemic, with unprecedented global economic impacts. According to the International Labour Organisation (IL0), 81% of the global workforce of 3.3 billion people have had their workplace fully or partly closed.  According to ILO director Guy Ryder:
"Workers and businesses are facing catastrophe, in both developed and developing economies".
Analysis undertaken by the Financial Times shows that the UK economy is heading for a recession that is forecast to be deeper than the 2009 financial crisis and one of the most severe since 1900: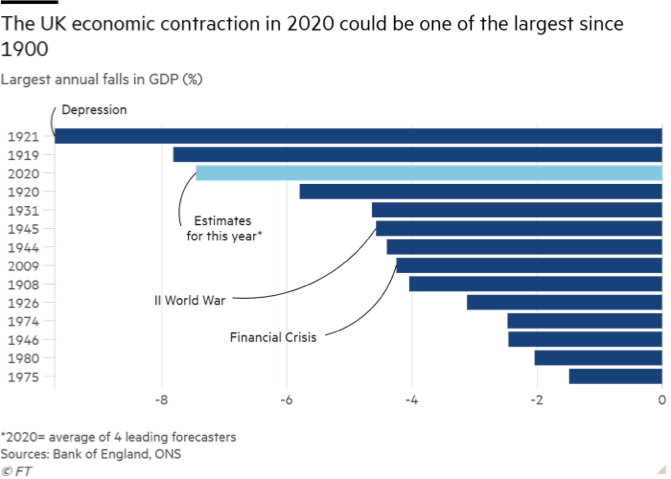 Almost a fifth of small businesses "at risk of collapse within month"
Far from being just a 'short-term' close-down, there are very real long-term risks to the economy, with multiple studies showing that large numbers of businesses may not survive the lockdown.
The British Chambers of Commerce (BCC) have reported that companies across the country are suffering from a sharp and significant fall in domestic and overseas sales as lockdown measures brought many firms close to collapse, threatening widespread job losses.
A separate survey reported in the Guardian last week found that almost a fifth of UK small businesses are at risk of collapsing within the next month as they struggle to secure emergency cash meant to support them through the coronavirus lockdown.
In total, almost one million small businesses across Britain are feared to be at risk of collapsing within the next month as they struggle to secure emergency cash, despite the government's efforts to cushion the economic blow and the Bank of England lowering interest rates to provide cheap financing.
The young, women and the low-paid hardest hit
The scale of 'income shock' that literally millions of people experienced virtually without warning in the space of just over a fortnight is difficult to comprehend. Exact figures are not yet clear, but at least 4-5 million workers have almost certainly suffered a major income shock, taking into account those who have lost their jobs (without the option of being put on furlough), the self-employed and small business owners.
Some workers have been hit harder than others, with young people, women and those in low-paid jobs hardest hit, as they are employed in larger numbers in the sectors affected by the shutdown, i.e. restaurants, shops, transport and leisure facilities.
According to research by the Institute for Fiscal Studies (IFS), the lockdown will hit young workers the hardest. Employees aged under 25 were about two and a half times as likely to work in a sector that is now shut down as other employees.Low earners are seven times as likely as high earners to have worked in a sector that is now shut down, whilst women were about one third more likely to work in a sector that is now shut down than men.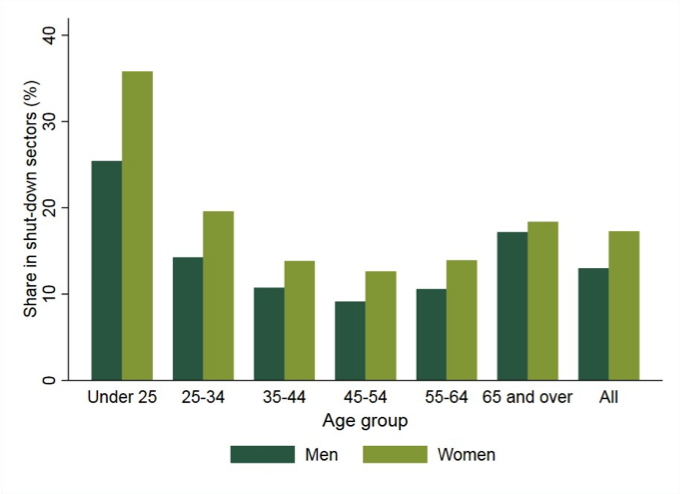 Low-income households less able to weather income shocks
Lower-income households will also tend to find it harder to weather any income shocks that the crisis will bring, as a greater proportion of their spending goes towards essentials and bills that will be harder to cut if they experience income falls, according to separate analysis also by the IFS.
Many households are experiencing falls in their income as a result of the economic and health policy responses to the coronavirus crisis – often sharp falls. What they normally spend their money on will matter for how well they can weather this storm. If a household typically spends much of its budget on essential or inflexible items, it has less scope to adjust to a lower income by reducing spending without incurring relatively severe hardship. Hence it is relatively likely to run down savings, miss bill payments, go into rent arrears, or go (further) into debt.
In spite of Government measures, millions remain without cash
The UK Government measures to mitigate the impact of the lockdown on individuals and businesses, announced by Chancellor Rishi Sunak over the past two weeks, have been impressive and universally welcomed. However, millions of people across Britain still risk falling through gaps in the coronavirus wage subsidy plan and benefits system.
As Revd Clare Downing, an Anglican priest in a low-income neighbourhood in West London, described this week:
"We're seeing so many people adversely affected during this time of lockdown and the impact of the virus in our community. The estates in our area are densely populated and many flats are overcrowded; health conditions and life expectancy are already lower than average; child poverty, food poverty, isolation and mental health struggles are issues people already live with on a daily basis – add to all that the impact of lockdown, increased concerns about health, and bereavements from Covid-19 and you've got a pretty horrid situation on your hands. Yesterday, a member of our church family lost her mother, she lived on the same estate in a nearby block and her death has affected family members and neighbours. Today another woman hears that her housing benefit has been stopped (some query or other) so she's trying to feed three children, with no income at present, keep them entertained in a small flat with no outdoor play space and now has to find an extra £140 a week to cover rent until they reinstate benefits."
A million new claims for Universal Credit: But how many have been paid?
According to the Department for Work and Pensions, nearly a million people "successfully applied" for Universal Credit during the last fortnight in March. This is almost 10 times as in a normal two-week period, and has placed a huge strain on DWP resources.
However, it is important to note that "successfully applied" is not the same as "having received any cash support", but rather means just that they have managed to register an application. This in itself was no mean feat, with helplines inundated, and at one point, a "virtual queue' to apply online (the main method for accessing Universal Credit) of up to 145,000 people. What is unknown is how many failed to "successfully apply", do not have the means to apply online, were defeated by the virtual queuing or the complexity of the information required from them, or are simply not aware that they might be eligible for Universal Credit or other benefits in the current situation.
As Tracey Herrington, project manager for Thrive Teesside, reported to me last week: 
"We are unable to stay in contact with some of our most vulnerable beneficiaries as they do not have phones or access to the internet. People have lost their jobs and an income to the household, some are unable to access Universal Credit so will be without one income which they have previously relied upon to 'keep afloat'."  
With Universal Credit's much-criticised five-week wait for the first monthly payment still in place, and potentially long delays whilst claims are assessed, many of the one million new claimants face the prospect of waiting weeks to receive cash. Some may opt for 'cash advances', but as these are in the form of loans, others will be put off by the prospect of taking on more debts as a result. Those who do receive their first Universal Credit payment in the next few weeks will be in for a nasty shock, when – even with the recent £20 a week uplift – they realise that UK unemployment benefit levels are amongst the lowest in Europe.
Millions could fail to benefit from Government support packages
Meanwhile, there are significant concerns that in spite of the various Government support packages, up to four million self-employed workers will still get no support.
Highlighting sizeable gaps in the government plan to pay 80% of employees' salaries and self-employed workers' profits as the crisis mounts, the IFS warns that 2 million people who work for themselves would not be protected because they do not earn enough from self-employment to be eligible; earn more than a £50,000 threshold; or only started out working for themselves within the past year and therefore missing the threshold to prove their past income to receive wage subsidies. A further 2 million people who run their own company will also slip through gaps in the safety net, because they pay themselves much of their income in dividends, and less through a salary.
Workers who lose their job completely will not be helped by the schemes as more companies across Britain consider cutting jobs, while those who have to take unpaid leave to cover caring responsibilities, or who face a cut in their earnings but continue to work, could also be left worse off.
Ensuring no one is left to sink into poverty, debt and destitution
Given the unpredictability of the current situation, and the fact that many of the Government schemes have yet to be fully implemented, it is hard at this point in time to be precise as to what further Government action will stem the growing tide of poverty, debt and destitution.
In the UK, the Trades Union Congress (TUC) has called for a package of measures to protect jobs, provide proper sick pay for all and protect the livelihoods of those who lose their jobs, by radically improving Universal Credit and a wider package of support for households and renters in particular.
A time to be bold – a time for courage
But even these measures may be too piecemeal to ensure that the 'gaps' are filled and no one goes without as a result of the crisis, not just in the immediate future, but from the longer-term effects which will undoubtedly continue to be felt for months and years to come.
Given the scale and urgency of the situation, other countries have introduced much more radical and far-reaching schemes: in the United States, the Federal Government's $2 trillion economic rescue package included a 'parachute payment' of $1,200 to each US citizen. In Spain, the Government is working on plans to roll out a Universal Basic Income to assist all Spanish families.
In many areas of public life, policies previously thought inconceivable have overnight been introduced. In the light of the perfect storm engulfing millions of households across the UK, there is an increasingly compelling case for a one-off cash payment to every household in the country, to ensure that they have the means to buy food, pay the rent and bills and tide them through the next few weeks and to provide the economic stimulus to kickstart the economy once shops and businesses, pubs and restaurants start to reopen over the coming months.
As Chancellor Rishi Sunak has said, the support needed is:
"on a scale unimaginable only a few weeks ago. This is not a time for ideology and orthodoxy, this is a time to be bold – a time for courage."