Longing to belong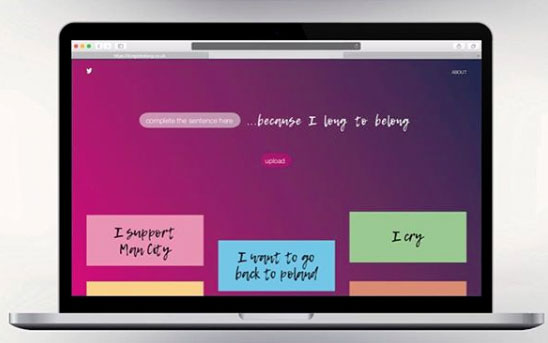 A creative project in Manchester is exploring the links between social justice and the arts, supported by the Centre for Theology and Justice.

Church Action on Poverty is a partner in the Centre for Theology and Justice, together with Christian Aid, Churches Together in Britain and Ireland, and others.
The Centre has teamed up with PassionArt for 'I Long to Belong' – a profound exploration of belonging, offering a creative approach to social, theological and justice issues, working with graphic word artist Micah Purnell as theresident artist for 2018-19.
Click here to visit the website and share your own thoughts on belonging.
"Our hunger to belong is the longing to find a bridge across the distance from isolation to intimacy. Every one longs for intimacy and dreams of a nest of belonging in which one is embraced, seen, and loved. Something within each of us cries out for belonging. We can have all the world has to offer in terms of status, achievement, and possessions. Yet without a sense of belonging it all seems empty and pointless."
(John O'Donohue, Eternal Echoes)
Through this arts initiative, we aim to learn and reflect upon the role the arts are playing in issues of social justice within our cities and communities, and to consider how the arts can deepen theological reflection and action on issues of justice.
The project hopes to enable artists who are actively engaging in practical justice issues to reflect theologically on what they are doing and why.
By collecting stories and building relationships between artists and theologians, the Centre hopes to broaden the understanding of theologians and the Church as to how the arts are being used to reimagine mission through creative listening and compassion towards the most vulnerable.
The arts enable our cities and our churches to reflect on and engage with justice themes by the retelling of stories to relate meaningfully to the lives of its inhabitants – through music, film, literature, drama, dance, art and galleries, museums, libraries and theatres.
The Centre is gathering and sharing resources about artists, artworks and art-based projects that are actively expressing issues of social justice that will be available on the website. The Centre is also commissioning a series of essays by both theologians and those working in the cultural sphere to encourage theological and cultural reflection on various issues of social justice and the role the arts play.
The project is also hosting a series of 'Conversations' with artists, theologians from all faith backgrounds and those working within the cultural sector (gallery and museum curators, composers, poets, writers etc). These recordings will be made available via Sound Cloud and will discuss creative practice, theological reflection and cultural and religious engagement within towns and cities.
Visit the 'I Long to Belong' website to find out more and share your own thoughts.