How Thrive took control of the agenda in 2021
Thrive Teesside have had a remarkable year. They recount why, in our final calendar story of 2021.
It has certainly been a year like no other. Notwithstanding the continuous challenges facing our community, we have worked tirelessly to seek out opportunities to amplify the many voices that otherwise would have been silenced.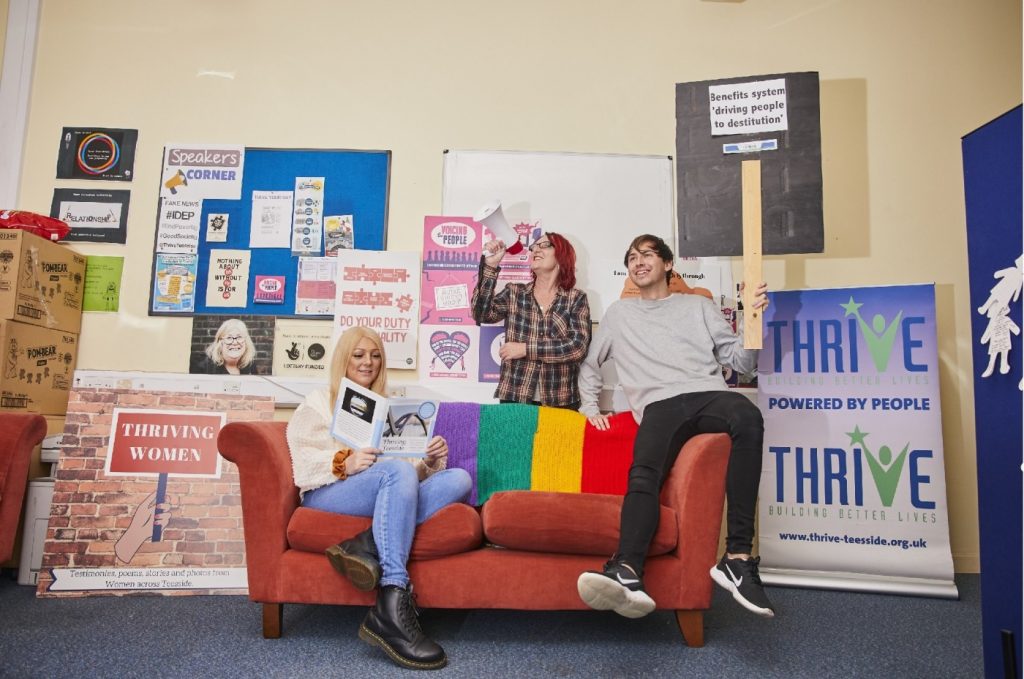 What does listening actually mean?
Taking control of the agenda and speaking out about the issues that have been important to our community has been our driving force. 
The areas of work Thrive has embarked upon include:
Meaningfully addressing the digital divide, and
Thinking about the impact debt deductions from benefits are having on below par incomes.
We put our head above the parapet and reached out to non-traditional partners to develop relationships, accepting that, on our own, it would be difficult to effect positive change.
We were keen to merge our unique area of expertise and this year, as part of Thrive's national work with Poverty2Solutions, we attended the Conservative Party Conference and stimulated a discussion around what listening to left behind communities actually means and could look like.
Thrive: working on solutions, not slogans
This year we also began our Thriving Women workshops, they were so welcomed after some difficult times and coming out of lockdown, finally we could get together in person. The workshops have definitive aims – to empower those who are powerless and to produce a body of work that reflects their lived experience of that.
We have a diverse group of women, some new to writing and some with a little experience, but all with a passion to have their voice heard on some of the issues faced on a personal level and within their community, we have explored "living in poverty, where we live, community and active citizenship, our right to reply, to whom it may concern, our Manifesto, Levelling up- solutions not slogans, and collective voices.
Thrive: inspirational and transformative
Thrive have continued to be inspirational and transformative, ensuring local people are the driving force behind all that they do.
Thrive Teesside was crowned winner of the Outstanding Contribution to Social Change category at this year's North East Charity Awards and this was hugely rewarding.
It is often quite difficult to keep motivated when constantly faced with challenges. The Thrive community are deserving of this recognition and it is humbling to witness their tenacity, dedication and determination to effect change.
Thrive member Corrina Eastwood says: "It was amazing to be shortlisted and then win this award. I'm inspired for the opportunities ahead and excited for the future of Thrive."
As an innovator of change, Thrive is proud to keep Teesside on the map.
Thrive Teesside feature on the December page of Church Action on Poverty's 2021 Dignity, Agency, Power calendar.