Why End UK Hunger?
Read our new report, laying out the evidence supporting our call for urgent action to End Hunger in the UK.
In 2018, Church Action on Poverty's report for End Hunger UK Step Up to the Plate called for comprehensive government thinking on responding to hunger in the UK. Household food insecurity is now being measured in the UK – but comprehensive policy responses are still lacking.
Our new report Why End UK Hunger?, published in November 2019, emphasises again why action is so urgently needed.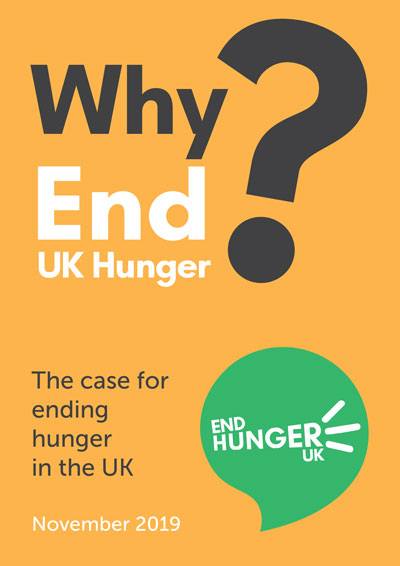 We worked with the University of Sheffield, King's College London and ENUF to produce the report. Edited by leading food poverty experts Dr Hannah Lambie-Mumford and Dr Rachel Loopstra, Why End UK Hunger? newly brings together leading thinkers to make renewed arguments for why it is so important to address the root causes of hunger on the basis of seven key 'cases':
the moral case;
the child's case;
the health case;
the secure income case;
the human rights case;
the political case;
and the public opinion case.
This report supports End Hunger UK's new goal: to persuade all UK political parties to develop serious action plans to halve household food insecurity by 2025, and to make good on our existing commitment within the Sustainable Development Goal to end hunger by 2030.