The churches' role in responding to Coronavirus (part 3)
What is the gospel imperative for churches in this challenging time? Church Action on Poverty trustee Stef Benstead has been reflecting on what she's seen. In this last post, she thinks about what we can learn from the Old Testament.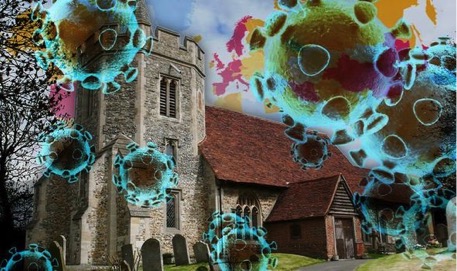 Jesus told us that all the Law and the Prophets – everything God has told us about what to do and his commentary on his people's adherence to it – hangs on the two commands, "Love God" and "love your neighbour". The Old Testament law made special provision for an economy and way of life that, followed faithfully, would eradicate poverty. The prophets are full of challenge to both the Israelites and pagan nations that they are subject to God's wrath because of their oppression of others and their failure to provide for, defend and uphold the poor, sick and needy. Indeed, it is by far the most common judgment of God against pagan nations, and ranks alongside idolatry in God's judgment of the Hebrews.[1]
The Law also contains a key commandment on blasphemy. The third of the Ten Commandments tells us not to misuse the name of God. There are many ways we can do this beyond just our language. One key way in which we can either honour or dishonour God's name is through our actions. In Ezekiel, God challenges the Israelites that their unrighteous, uncaring lives are causing the nations to profane God's name. They make it look as though God isn't worth following; or that he is as selfish, capricious and unjust as his people; or (when he eventually sends his people into exile) that he can't defend his people against the pagan nations.
God expects his people to better than the rest of the world, not at best just the same and often even worse. He expects us to step in where the rest of the world steps back. The current situation, where it is the secular groups in our country who are filling the need for affordable food and access to food, is a terrible dishonour to God and an indictment upon his people. The very last thing that Christians should be doing is stepping back and closing our doors. We should continue to be open to serve our communities and meet their practical needs, and striving to do more as the need deepens. We should not be waiting to see what new regulations come out or how the course of the virus goes, but getting ready now to serve the need that is present now. Let tomorrow worry about itself, so long as we are faithful today.
So this is my challenge to all denominations, congregations and Christians: open your doors, open your hearts, open your pockets and serve.
[1] The most common indictment against the Hebrews is their general rejection of God, with over 200 verses dedicated to this. Oppression and idolatry each occur around 145 times, with the next highest being harlotry and lying leaders, at a little under 100 verses each (by my count).
God condemns the pagan nations for oppression over 80 times, for pride 45 times, and all other charges fewer than 25 times.
---
At Church Action on Poverty, we know that some churches are struggling to keep services open because their volunteers are themselves vulnerable and need to self-isolate. But many others are finding creative ways to serve and keep people connected.